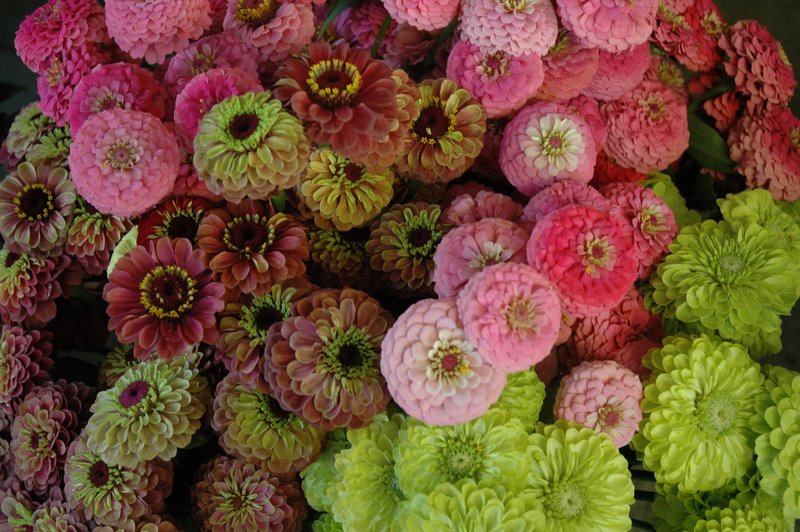 Where would summer be without zinnias? As sure as the dialogue between katydids marks the hours, as sure as the sweat dribbles from my forehead as I pull the weeds, zinnias are the synthesis of summer.
You might veer for lemonade stands, but I brake for the card tables jammed with zinnias stuffed in coffee cans. Doesn't matter that I'm growing my own. The fact that I've got fistfuls wading in the feathery asparagus doesn't stop me from skidding to a stop whenever I see a display of flower-filled Mason jars as I whiz by and plunking down my money in the Honor System jar. You can never have enough zinnias in life.
Zinnias are whoppie. Zinnias are hubba hubba. Zinnias are the tarts of summer. And no garden is complete without zinnias. So that's what this post is all about — getting you up to speed with a summer essential. I started with zinnias ('Cut and Come Again' if I recall) not long after my Brownie marigold project. Graduated to the Oklahoma series when it was available in separate named colors. From there, I moved up to the Benary strains. The only zinnias that were complete unrequited love were the cactus types. Total fizzle on them (advice? recommendations?). Otherwise, we've had a pretty good relationship over the years. Purples have always made my heart flutter. And the reds. Not to mention the whites. But now a new zinnia has stumbled upon my scene, and I'm smitten.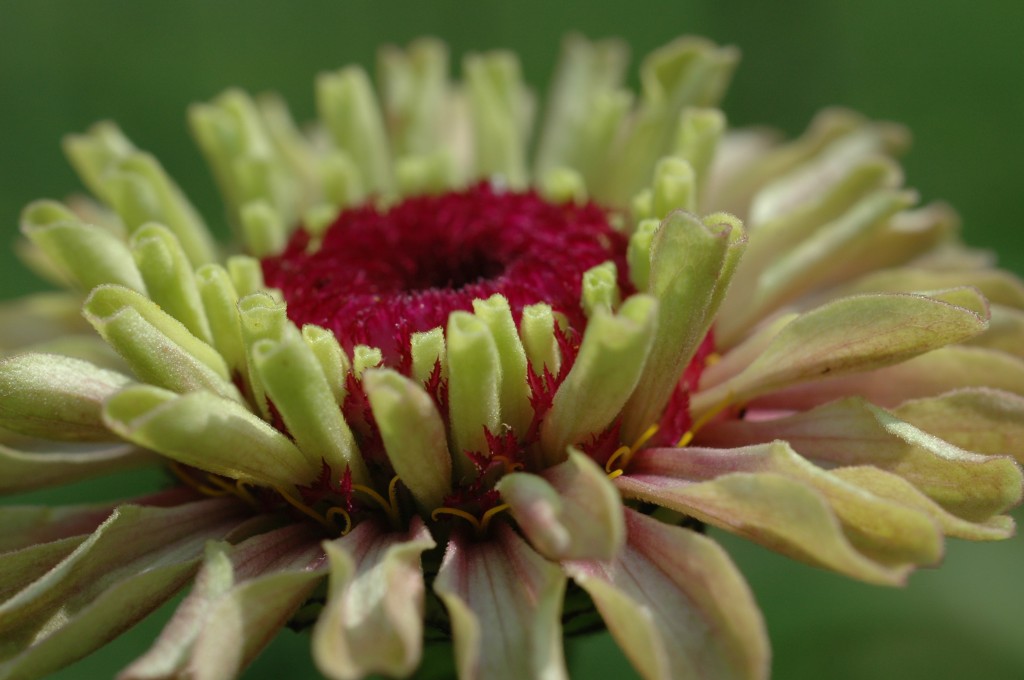 'Queen Red Lime' cross-dresses. It's a chameleon colorwise. By red, they really mean dusky rose — a sort of smoky shade of burnt pink. Depending upon when you catch it during its phases, its dome-like heads evolve from rose on the outer petals to green toward the center. The percentage of doubles is impressive (I didn't hit any singles whatsoever in my seed packet) and the plants have endured the drought with a stiff upper lip. In other words, 'Queen Red Lime' makes other zinnias look like shirkers. I got my packet from Territorial Seed (www.territorialseed.com).Great germination.
Long ago, a cut flower-growing friend clued me into the winning formula for zinnias. Water early in the season to give the plants a strong start and then keep the foliage dry to prevent diseases. Well, this summer, keeping 'Queen Red Lime' watered would have been a fulltime job (I have wimpy water pressure down in that garden). Still, the plants soldiered on and produced their 3 inch (and up) flowers on long stems (don't you hate to sacrifice buds for the sake of a long stem in the vase?). They're sturdy, they're colorful, and they bunch up into a great bouquet, especially if you want to sprinkle in some green 'Envy' zinnias alongside.
I have my friends at Cedar Farm Wholesale in Ghent, NY to thank for introducing me to this lovely. Their 7 acre farm is jam-packed with cut flowers in a spectrum like you've never seen before. They delve into rarities you won't find elsewhere. And they're always testing something new. Stay tuned for more cuts they've introduced me to. Better still, catch them at some of the farmer's markets that they attend. Check out their website at www.cedarfarmwholesale.com for lists of what's being bundled at the farm. What's better than a zinnia in midsummer? A vase overflowing with these cheeky bloomers. Hot. Hot. Hot. Bet you can't choose just one…