It takes balls to turn heads. At least, that's what I'm told. I think that I read it first in The Avant Gardener — that wonderful print newsletter. Apparently, orb-shaped flowers (or clusters of flowers) ring bells in popularity polls. That's when I took a tally and noticed that my garden lacked balls, so I took immediate action. And sure enough, the community came down with a raging two thumbs up.
I try to keep a low profile in town, which isn't hard when you're not quite 5 feet tall and shy away from local politics. Every once in a while someone marches down the path to scare me up from behind the viburnum. But it usually has something to do with a plant that their dog ate ("I was just wondering if it's poisonous, he gnawed it down a week ago Friday") or advice ("My dogwood died. What should I do?"). My mulch always gets plenty of comment around town. But in general, the community concerns itself with exterior paint colors and reproduction light fixtures. As a rule, plants don't register. That changed when I planted Allium karataviense.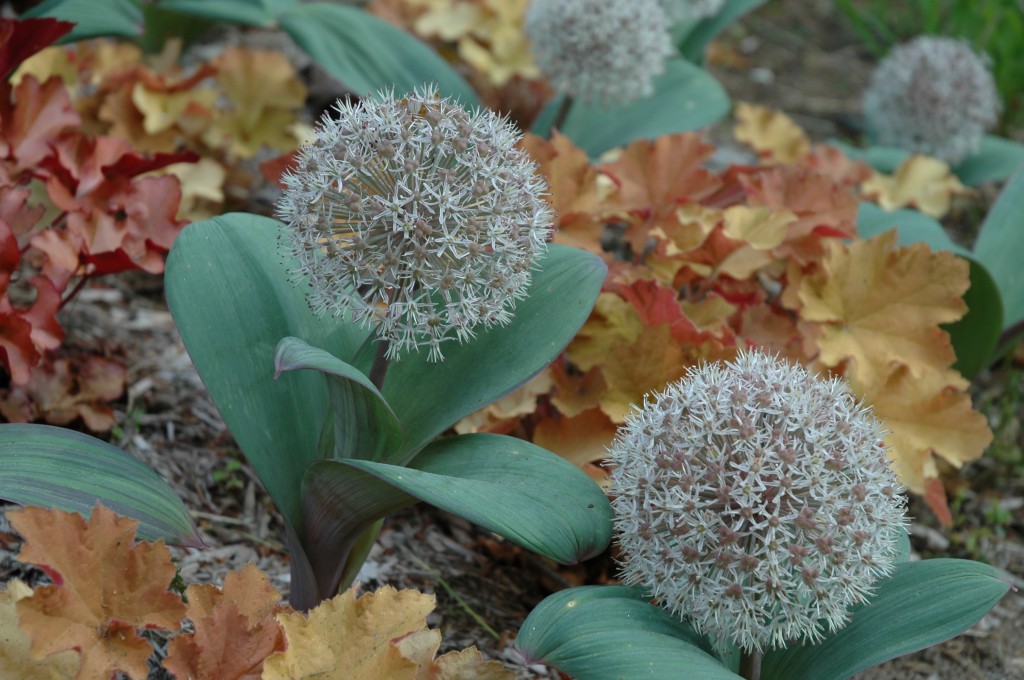 I'm not sure who to credit with the Allium karataviense idea. I'm a confessed inspiration thief. But by some fluke, this eureka moment might have originated in my own convoluted brain. (If you did it first, I don't want to hear about it.) Believe it or not, there is a portion of my front yard that was lawn. And to remedy that breach, I originally planned to lay a low-lying carpet of plants in lieu of the crabgrass that prevailed. I've since begun to add volume height-wise, but that came later. When a friend announced that he was ripping out his cache of Heuchera 'Caramel'. I welcomed the whole herd with open arms and hatchback ajar.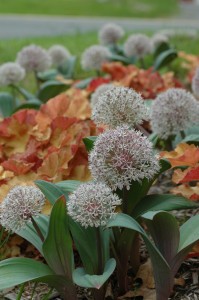 I love sunset shades, I truly do. Plus, 'Caramel' can take the sun (more about that in a future blog). It was groovy, but it lacked a cutting edge. Simultaneously, I'd ordered too many bulbs of Allium karataviense. I always force them for late winter kicks indoors — and they work beautifully for that purpose. But I ran out of refrigerator space.
So I installed the excess allium between the heucheras. The accordion pleated blue foliage was a hit even before the flowers popped. And then came those mauve balls (mauve being highly superior to pink) that lingered half the summer. Even when they fade to brownish they look fairly wonderful. And the leaves don't peter out like most alliums. They remain in great shape and color until July or later. There's a white version, but I don't really see the point — the mauve is part of the show.
And it was a show. Suddenly, I was the local hero. People stopped me at the dump. They cornered me beside the viburnum for reasons other than canine ingestion mishaps. It was thrilling. And I figure it all had to do with balls. I'm all for a happy neighborhood, so I ordered another few hundred Allium karataviense (no, I'm not running for public office in town). Plus I went big for Allium 'Purple Sensation', A. christophii and a whole lot of other balls to juggle as well. Last year was the unveiling and the audience went wild. So I added still more (I'm no fool). And we'll see.
Fortunately, six months have elapsed since I spent day and night painfully doing deep knee bends, planting bulbs. And I'm pleased to report that — if anyone should want to pay me a compliment — I will again be able to stand and receive it.