Not everyone can be the rooster. Somebody's got to be the flock. In fact, has anyone else noticed that garden design is moving more toward mass and edging away from divas? The superstar plant might bring in the cheers, but is it really a team player? I swoon over my fiery red, Frisbee-sized tree peony 'Hephestos', but I'd rather be stuck on a desert island with a Geum 'Bell Bank'.
I never thought that I'd be pouring praises in a geum's direction. Nope, not me. Back in my pastel phase, the bright orange geums just seemed too outspoken for polite company. And the species geums miss the party altogether. By the time I noticed that Geum triflorum was performing, it was on the verge of moving on to raise a family and scatter its seed. The seedheads are undeniably fab. But you need a slew of prairie smoke (as it's called) to make a statement. Then Ed Bowen introduced me to the middle road. He called it Geum 'Bell Bank'.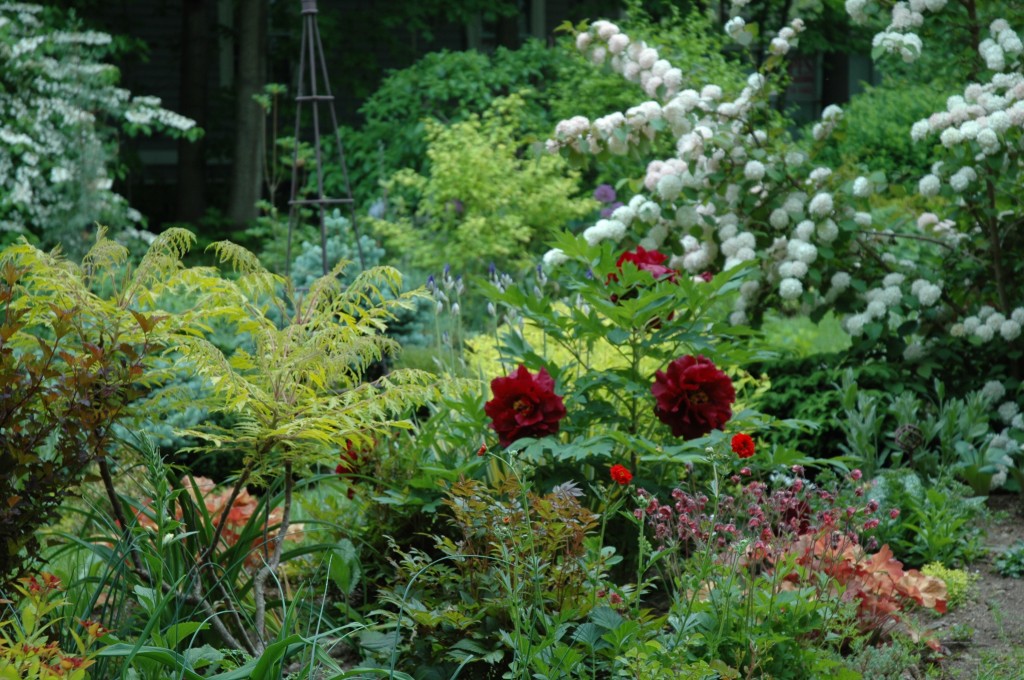 Geum 'Bell Bank' has poise. In May, it ties just about everything together with a tidy swarm of nodding flowers. Their petals have a luminous sparkle reminiscent of stained glass. You're welcome to weigh in with an opinion on their hue, but I'm going to say apricot and brick. Plus they demurely nod. Don't you love humility in a flower? About the size of buttons, mine form a floriferous rivulet running between the brighter orange Geum 'Mrs. Bradshaw' (yes, I eventually invited her to join the celebration, but she seems like a tart beside 'Bell Bank') and the seething red 'Hephestos' tree peony. Sometimes you need a peacemaker between several outspoken shades. And 'Bell Bank' does such a fine job of diplomacy. I've hired it for other missions as well. Stay tuned for future blogs.
To go back a step, I skipped over Ed Bowen too hastily. To give you the introduction — My affair with Geum 'Bell Bank' was Ed's fault. And it wouldn't be the first time Ed Bowen threw romance my way. Ed's Rhode Island nursery is Opus (www.opustopiarium.com) and he's quite possibly the region's most savvy perennial collector and propagator. On his website, he describes his nursery as "deliberately small", but that gives him time to be a self-designated advocate for under-utilized plants. When Ed recommends a perennial, perk up your ears. He comes to the plant sale, Trade Secrets (www.tradesecretsct.com) every year, and I typically ask him to bring 10 of whatever I purchased the previous year. Moral of the story — never buy one of anything from Opus, you'll end up begging for at least half a dozen and he'll be sold out.
Okay, now you're scratching your head and adjusting your glasses. "What's this about Geum 'Bell Bank'? Surely she means 'Flames of Passion'," you're muttering. Absolutely, Piet Oudolf put 'Flames of Passion' on the map. It's similar. It adds a wild flare to your typical frilly geum. It's orange, it's nice, but it lacks the allure of 'Bell Bank'. Not a modest bone in its body. And in practical terms, side by side, my 'Bell Bank' blossomed for a much longer duration. In fact, 'Bell Bank' was still in the picture in June.
Of course, there's the name. 'Flames of Passion' certainly is evocative. And then there's 'Bell Bank', which sounds like it belongs beside a churchyard. But wouldn't that be lovely?