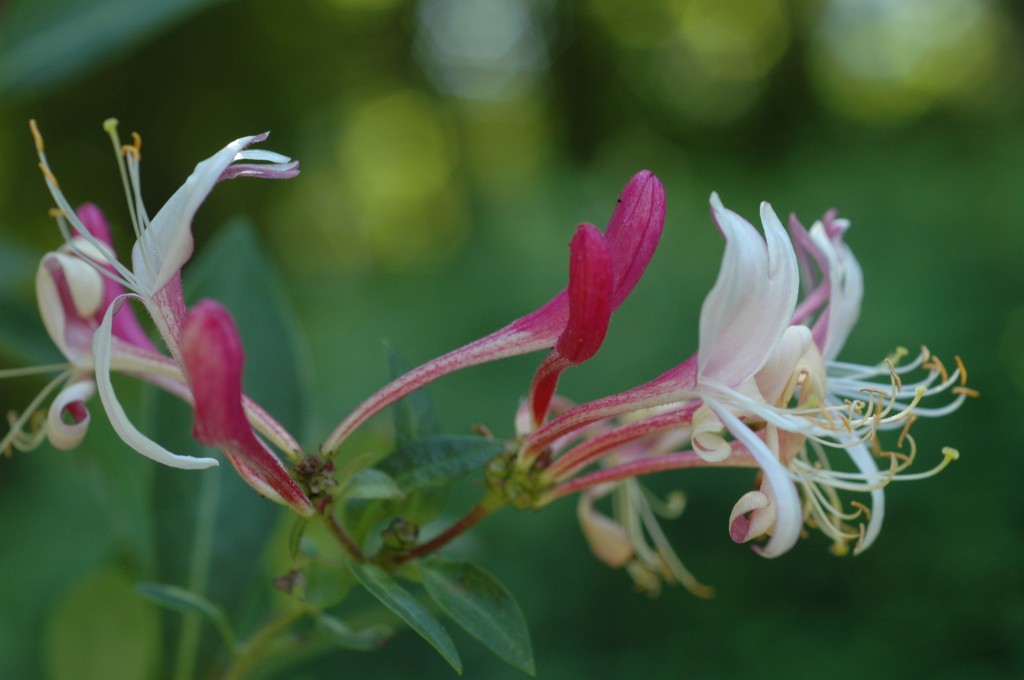 Often, the garden is shrouded in darkness by the time I return from my evening walk in summer. I forgot my flashlight (again). I forgot to turn on the front door light (again). Street lamps are strictly budgeted in our town (for reasons that shall remain a mystery). But no matter. I can find my way home anyway. All I have to do is follow my nose when Lonicera periclymenum 'Serotina Florida' is in blossom.
Brew up an elixir of candy canes dipped in honey spun with a hint of molasses — that's Lonicera 'Serotina Florida'. Float it on the air, let it rise above the perfume of fermented salmon that I spray around for the deer. Send it wandering toward the road. Then follow it back to a vine that long ago mounted its arbor (hiding the well-pump head) and sends a few stray wispy squiggles into the sky. Smother that vine in a halo of whisper pink and darker rose-colored trumpets. That's Lonicera 'Serotina Florida'.
This isn't one of those naughty loniceras. Even though this honeysuckle isn't a native, L. periclymenum isn't on any invasive plant lists (as far as I can trace) and it truly minds its manners for me. (If anyone knows otherwise, speak now — PLEASE.) In fact, it doesn't even stretch with the elastic athletics of the native L. sempervirens (alias Spiderman). In this case, just toss the typical vine "first year it sleeps, next year it creeps, etc" dictum to the dogs. Ever since 'Serotina Florida' took up its post as a wee thing obtained from Brushwood Nursery (www.gardenvines.com), it has performed full strength. It never hesitated. Upwardly mobile. But that said, it's more compact than the typical 'Serotina'. Plus, deer don't pester it. Zone 4. What's not to love?
Wait. There's more. Beyond that heavenly fragrance, there's the truly endearing little fact that 'Serotina Florida' is the first vine in the garden to form leaves. In my garden, it starts action right along with the snowdrops. Just leaves until mid-May. But the leaves and stems are flushed red. Flowers come later and last until midsummer. Then berries, but the berries haven't caused seedlings (I could make a governor joke, but I won't).
Mine is happy on a 7 foot trellis. That said, its inter-braided woody stem has the trellis bound into a stranglehold. So maybe you shouldn't give it your prize rose to hug. Every silver lining has a cloud, I suppose. But I tend to look at (and smell) the silver side.