"Oh, just take it," the nursery manager grumbled, clearly disgruntled that I walked right past his greenhouse packed with poinsettias without a second glance (there's no accounting for taste) and opted instead for this leftover flowering kale. "I could pay for it…," I offered. But he waved me aside.
So there I was with my prize Kale 'White Peacock' in the car, feeling like I just robbed Fort Knox and ready to make merry. I thought the kale would just be a holiday fling. But now I'm wondering how I can ever live without this little lovely again. Stunningly weird close up (you be the judge). Sufficiently intricate to hold your attention over the long nights of winter. Requires almost no care. Although I had little faith that the kale would perform as a houseplant over the long haul, it's been a source of constant delight. Fooled me.
That's what houseplants are all about, in my opinion. Forget the poinsettias. Seriously. They whine, they pout, they do all the things that would put them permanently on Santa's "not" list. They'll give you nothing but heartbreak. On the other hand, something like a flowering kale is the breakout scene stealer. Can't keep my eyes off it.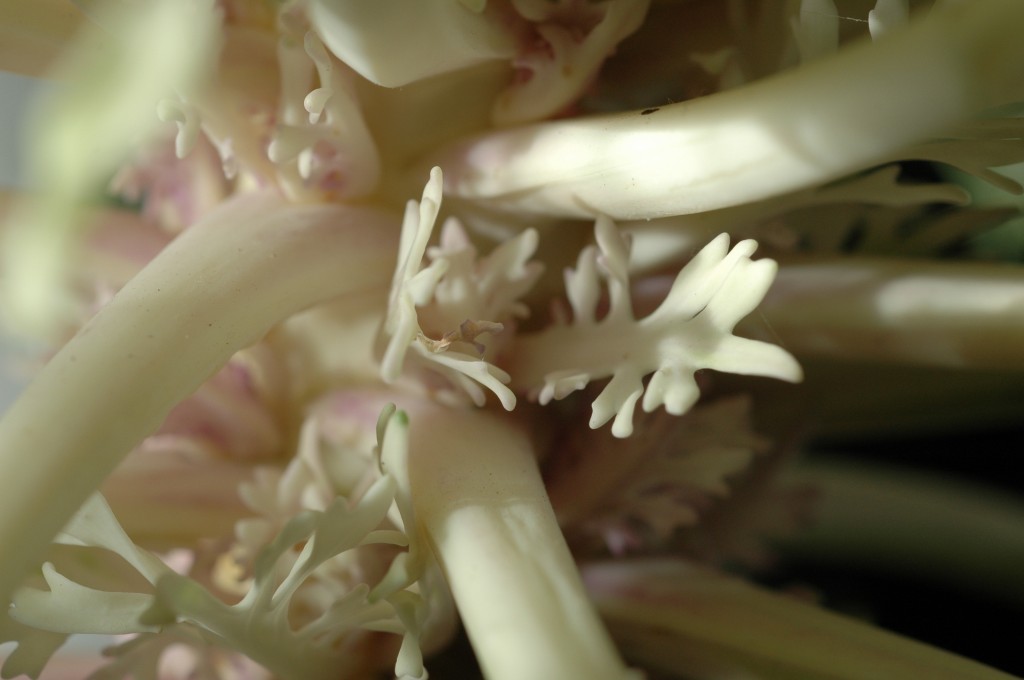 And how many times have you walked by a kale outside in autumn without giving it more than a nod of recognition? In a container at your elbow, this ugly duckling reaches swan status. No lifting a finger on your part necessary. Mine dropped a few leaves when I came back from holiday visits and found its soil bone dry. Big deal. Watering it regularly is a better idea, needless to say. But it doesn't hand out demerits. We like plants that don't feel the need to punish us.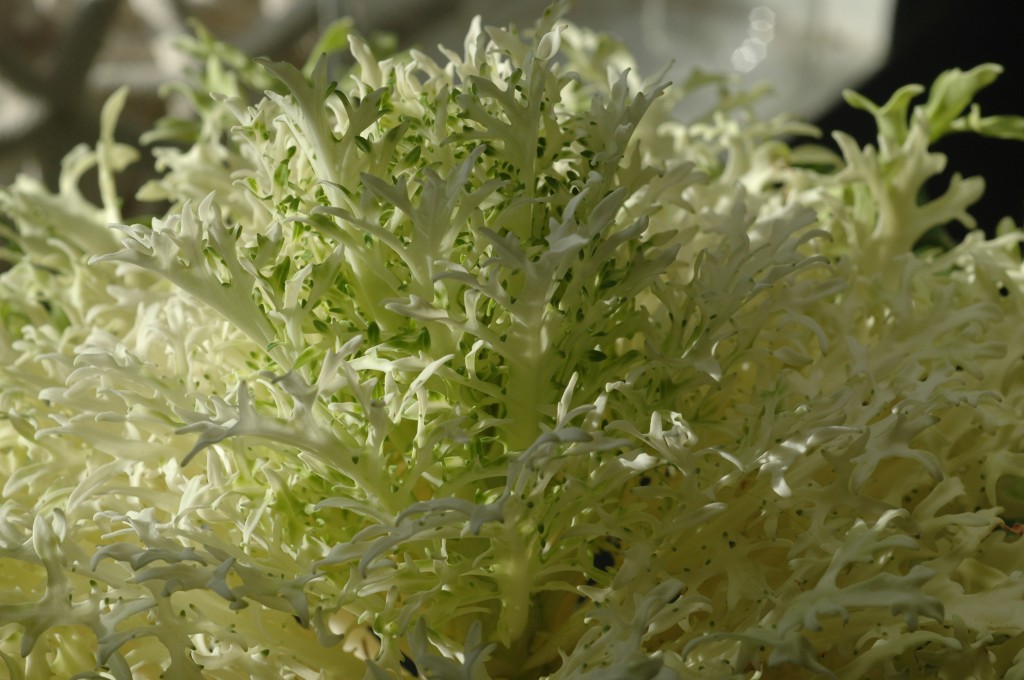 Of course, what are the chances that I'll find another freebie next year? And the nurseryman with the limited patience for shoppers who snub his poinsettias is not likely to make the same mistake twice and grow a superabundance of 'White Peacock's. He's no fool. There will be no leftovers for me next year, I bet. But I've got a plan (I've always got a scheme): I'll buy a few flowering kales for the front porch in autumn and bring them in last minute for a white Christmas. Hoping all your holidays were equally bright…