They're back in the fold again! The houseplants, that is. And as much as I liked the convenience of hitting them with a hose (and sharing the watering duties with Mother Nature), I missed them. Now I feel whole again. The nest is never totally empty. But still, I spent last night roaming around patting the plants that don't bite on the head. So the agaves with teeth just got a high five.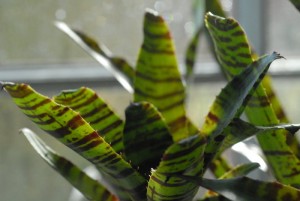 Needless to say, the family has expanded over the summer — it always does. A bunch of new goodies hitchhiked home in the car from a visit to Landcraft in Mattituck, LI. Had to enlist some new plantstands just to accommodate them all. My favorite? Neoregelia 'Tiger Cub'. Check it out.
What's not to like? Beyond being outrageously handsome, 'Tiger Cub' is low maintenance. Raving success is a no-brainer with most bromeliads. The only time I fail is when I burn them with too much light. Find them an east window and it's Easy Street. And paired with a cool container, you've got something that will warm your winter months.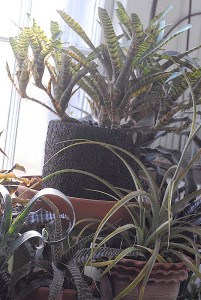 I keep my neoregelias (yes, I have others) moderately moist. Although they like having their vase-like leaves filled with water, that's easier done outdoors than inside, and they don't demand it. Basically, they like to grow in the same conditions that we favor indoors. Simple as that. And they make pups to share with lucky friends…Am I going to be popular with neoregelia wanna-haves, or what?