Make haste. Because summer is slipping away fast. What to do about the dilemma? Well, that's what The Unexpected Houseplant is all about. And now that I'm back on the blog roll for the season, I'm going to give you some unexpected suggestions. For now, the blog will run back and forth between indoors and outside. When the garden is snapped shut by the frost, we'll retreat indoors entirely. What you'll find here is an update from the book– because gardening is about moving forward, am I right? You'll be amazed at what you're going to find on these windowsills.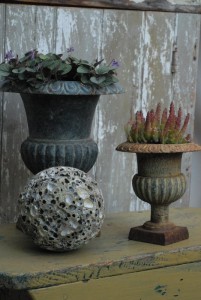 Like Viola walteri. I got this delightful little native species from Avant Gardener at the Hollister House Study Weekend a few weeks ago. Sure, I could have plunked it into the garden and got a whole month of entertainment from it before doomsday (from a Zone 8 violet's point of view).
Instead, I tucked it into a little pedestal urn where it's been blithely performing ever since. Right now, it's still outside in a shady spot. As soon as frost threatens, I'll squirrel it indoors and give it an east or west-facing windowsill. I'm willing to bet it loves living with me. And who can beat the steel gray leaves with plum-colored accents?
Einstein thinks so, too. He did the bounce and stress testing for my book. Now in Graduate School, he's still working hard at the job.
Hope to see you all at my book lecture on Thursday October 4 at 6:00 for The Unexpected Houseplant at the Horticultural Society of New York, 148 West 37th Street, 13th floor, New York, NY. See you there!