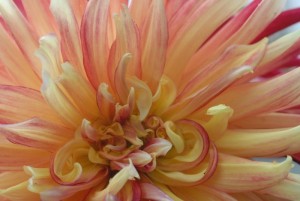 I saw it coming. For once, I was monitoring the weather. All the houseplants were safely inside (well, most of the houseplants were already squirreled indoors). But what happens to the dahlias is beyond my control. With tubers planted in gigantic containers too large to haul in — the only way that they're coming indoors is in a paper bag.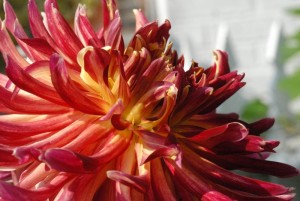 Unable to extend their performance, I did what any self-respecting devotee would do — I shot them. With my camera, of course. And I especially focused on the dahlia that has given me untold pleasure this summer — 'Akita'.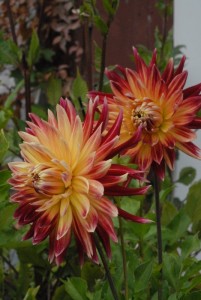 I ordered 'Akita Mixed' from Longfield Gardens (www.Longfield-gardens.com), and every flower has been an odyssey. The only way that I can think to describe the flowers is that they're colored like quills. What do you think? Maybe an Indian headdress with stripes of copper and yellow or stripes of magenta/purple and yellow, depending on the bulb. There's nothing like a mixture to keep you guessing. And that's part of the fun.
Described as a dinnerplate, 'Akita' is definitely plus-sized, but not unwieldy. Each flower is about 3-4 inches or so with dense petals in the center but outer petals extending like rays. In other words, it doesn't look heavy. And in fact, mine stood up without staking — I always avoid staking if possible. Anybody else with me on this? It always seems awkward and contrived. If it's got to happen, the best way to achieve propping up is behind the scenes. And that's nearly impossible with a dahlia, especially a potted dahlia. Anyway, 'Akita's thick stem did the job — unwaveringly. And heaven knows, there were plenty of gusty days to challenge their strength.
Buds kept coming. They would have continued, but The Late Show wasn't in the cards. So I snapped a few final photos last night, cut them down this afternoon, and tucked them somberly into the cellar until next spring. Sometime this winter, let's all look back at these photos. Already seems surreal, doesn't it?