Well, the name's a little melodramatic. But if you can get over that (what's in a name?), what's not to love in this little cutie? I'm always game to try anything that might work indoors. For example, this little number wasn't really being sold as a houseplant. But why not give it a spin?
When I picked Senecio cephalophorus 'Blazin' Glory' up from Avant Gardens, it was love at first sight, even before the first bud opened. And by the way, there's nothing wilted in this photo. The buds are naturally nodding, which you find irresistibly endearing, don't you? And then they straighten up and jut out at odd angles to burst into a paintbrush of tiny orange bristles — each one a flower.
But even if this show didn't go on for months (which it does) — there's that foliage to die for. Plump, oval leaves tucked together in a nest. Each leaf chalky bluish-silver. Whole shebang stands no larger than a foot. Are you sold yet?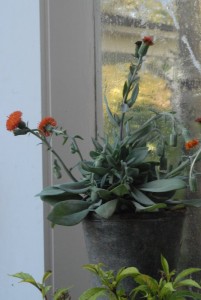 What if I told you that it's virtually maintenance-free? Needs no tidying whatsoever because it's invariably picture perfect. Never pouts. But I'm stingy with the water — it might not like being drowned. So water it sparingly, like you do all succulents. And those orange flowers — they don't have the typical "old gym socks" senecio smell (thank goodness). In fact, their scent is mildly (very mildly = use your imagination) pleasant.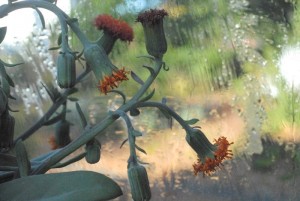 So go for it. Yes, this little number will need a bright, south window. But can you think of a better way to invest your sunbeams?