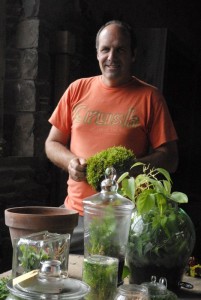 Just an idea for that someone on your list who has everything–give them a Terrarium Workshop for the holidays. Talk about presenting them with peace, tranquility, and green therapy. Here's a partial list of locations where I'll be giving workshops and terrarium demonstrations as well as houseplant demonstrations in the coming year:
January 30, 2013 ~ 6:30 PM
Elizabeth Park ~ West Hartford, CT
Terrarium workshop
elizabethpark.org
February 3, 2013 ~ 1:00 PM
Campo de' Fiori ~ Sheffield, MA
Terrarium demonstration and Houseplant Repotathon
campodefiori.com
February 24, 2013 ~ 10:00 AM
Northwest Flower & Garden Show ~ Seattle, WA
Terrarium lecture & Houseplant lecture
gardenshow.com
March 2, 2013 ~ 11:00 AM
Pennsylvania Garden Show of York ~ York, PA
Terrarium workshop & Houseplant lecture
pagsy.com
March 5, 2013 ~ 1:00 PM & 3:15 PM
Davidson Horticultural Symposium ~ Davidson, NC
Terrarium Lecture & Houseplant Lecture
davidsonsymposium.org
May 5, 2013 ~ 3:00 PM
Lori Warner Studio ~ Chester, CT
Terrarium Workshop
loriwarner.com
And who is that in the picture? That's Jerry Fritz at my Terrarium Workshop for Linden Hill in Ottsville, PA. Bet I'll be doing my annual workshop there next year. Stay tuned.